Events in the next 30 days...
Click on an event to learn more or scroll down to view all
Thursday, October 15, 2020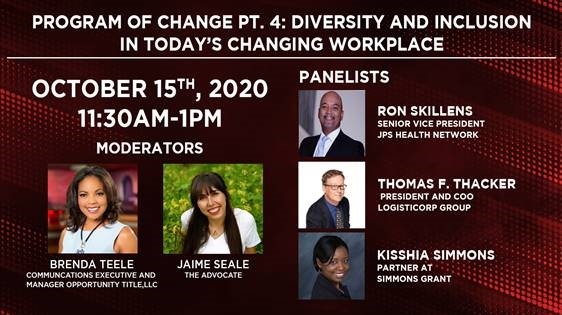 Program of Change: Part 4
Diversity and Inclusion in Today's Changing Workplace
We now take lessons from 3 powerful books and discuss how to implement diversity at work. Our panel will be lead by Brenda Teele and Jaime Seale. They will be assisted by our outstanding panelist Ron Skillens, Sr. VP at JPS Health Network, Thomas Thacker, President & COO at Logisticorp Group, and Kisshia Simmons, Partner at SimmonsGrant.
These leaders will help us define diversity, the culture around a successful diverse workplace, and the tools needed to keep the diversity healthy. With years of experience and success, they will share their executive mindset that will apply to start up to small business to large business and corporate executives.
Join us for an educational hour of Business & Diversity talk.
more info...
---
Wednesday, October 21, 2020
This is our monthly happy hour which will give you the opportunity to visit a variety of Lake Highlands venues and meet new friends and business contacts while having a cold drink and relaxing with good folks from the Lake Highlands Chamber of Commerce.
Everyone is welcome at this event, you do not need to be a chamber member and make sure to bring plenty of business cards!
This event features free appetizers provided by our event sponsor, a business card door prize drawing and a monthly speaker from our community who will give you helpful advice and information about their industry.
Admission is free, the events start at 5:30pm and there is no hard start, show up when you're able to and we look forward to seeing you! Contact benjaminrlauer@gmail.com for event specific information including this month's location if you aren't getting the monthly emails. If you'd like to sponsor appetizers, bring a door prize, host an event at your venue or speak at an upcoming event, contact us for upcoming opportunities!
more info...
---