Events in the month of September 2020
Click on an event to learn more or scroll down to view all
Wednesday, September 16, 2020
This is our monthly happy hour which will give you the opportunity to visit a variety of Lake Highlands venues and meet new friends and business contacts while having a cold drink and relaxing with good folks from the Lake Highlands Chamber of Commerce.
Everyone is welcome at this event, you do not need to be a chamber member and make sure to bring plenty of business cards!
This event features free appetizers provided by our event sponsor, a business card door prize drawing and a monthly speaker from our community who will give you helpful advice and information about their industry.
Admission is free, the events start at 5:30pm and there is no hard start, show up when you're able to and we look forward to seeing you! Contact benjaminrlauer@gmail.com for event specific information including this month's location if you aren't getting the monthly emails. If you'd like to sponsor appetizers, bring a door prize, host an event at your venue or speak at an upcoming event, contact us for upcoming opportunities!
more info...
---
Thursday, September 24, 2020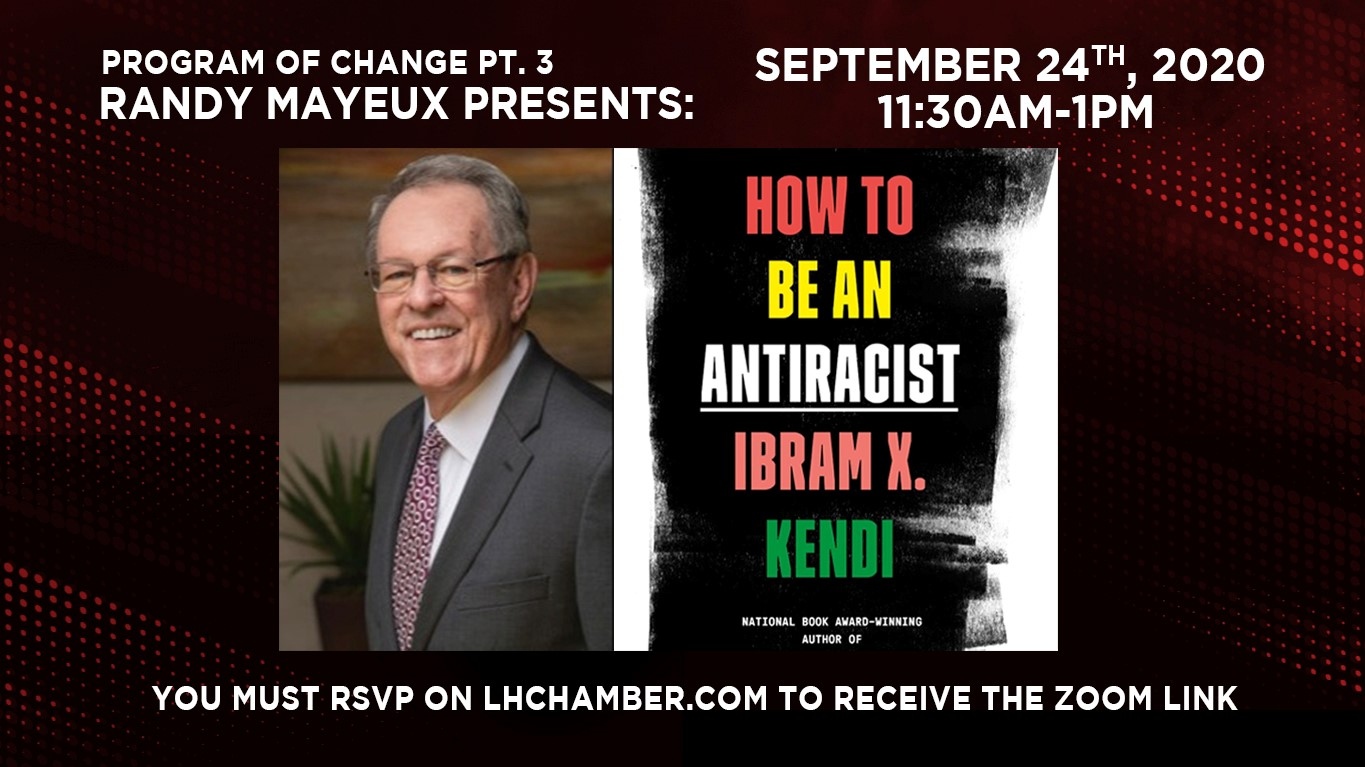 Part 3 of 5: The Power of Change
Randy Mayeux is back with another book discussion!
This month he will be going over Ibram X. Kendi's 'How to Be an Antiracist'.
#1 NEW YORK TIMES BESTSELLER • From the National Book Award–winning author of Stamped from the Beginning comes a "groundbreaking" (Time) approach to understanding and uprooting racism and inequality in our society—and in ourselves.

"The most courageous book to date on the problem of race in the Western mind."—The New York Times

NAMED ONE OF THE BEST BOOKS OF THE YEAR BY The New York Times Book Review • Time • NPR • The Washington Post • Shelf Awareness • Library Journal • Publishers Weekly • Kirkus Reviews
Randy Mayeux is back
with another book discussion! This month he will be going over Ibram X. Kendi's 'How to Be an Anti racist'.

Book Synopsis:

Ibram X. Kendi's concept of anti racism reenergize and reshapes the conversation about racial justice in America--but even more fundamentally, points us toward liberating new ways of thinking about ourselves and each other. Instead of working with the policies and system we have in place, Kendi asks us to think about what an anti racist society might look like, and how we can play an active role in building it.

In his memoir, Kendi weaves together an electrifying combination of ethics, history, law, and science--including the story of his own awakening to anti racism--bringing it all together in a cogent, accessible form. He begins by helping us rethink our most deeply held, if implicit, beliefs and our most intimate personal relationships (including beliefs about race and IQ and interracial social relations) and reexamines the policies and larger social arrangements we support. How to Be an Anti racist promises to become an essential book for anyone who wants to go beyond an awareness of racism to the next step of contributing to the formation of a truly just and equitable society.
It's another book in our series contemplating change and how we can change.
You must RSVP to obtain the link.
more info...
---